Why do we celebrate Easter?
1. The Empty Tomb shows that God is faithful
After Adam and Eve rebelled in Centuries earlier God promised that he would crush wrong ones and for all as quoted in (Genesis 3:15). He vowed to send his Son to defeat sin and death by his crucifixion and resurrection. For thousands of years, God neither forgot nor turned from his promise. He didn't grow weary, nor would he be distracted. He made a promise, and he controlled the events of history so that at just the right moment, Jesus Christ would come and fulfill what had been promised.
2. The Empty Tomb indicates God is powerful
Think of the powerful nature if would have to have to control all the situations, locations and relationships in order to guarantee that Jesus would come at the precise moment and do what he was appointed to do. Also, could there be a more pointed demonstration of power than to have power over death (1 Corinthians  15:55)? By God's awesome power, Jesus took off his grave clothes and walked out of that tomb. Those guys in power-lifting competitions may be able to pull a firetruck with their teeth, but they'll all die, and there's nothing they can do about it.

3. The Empty Tomb reveals that God is loving
Why would God go to such an extent to help us? Why would he care to notice us, let alone rescue us? Why would he ever sacrifice His own Son? Because not only is God loving, but he himself is the definition of love (John 3:16, 1 John 4:8). You and I need to recognize that his love was not motivated by what he saw in us, but by what is inside of him. Even when we're unloving and rebellious, full of ourselves and wanting our own way, God is still loving. He delights in transforming us by his grace and rescuing us by his love.
4. The Empty Tomb guarantees eternity
No matter how mundane, routine, and slowly progressing your story seems to be, it's marching towards a glorious conclusion. There will be a moment when God will raise you out of this broken world into a paradise where sin and suffering will be no more (1 Corinthians 15:52, Revelation 21:4).
5. The Empty Tomb guarantees security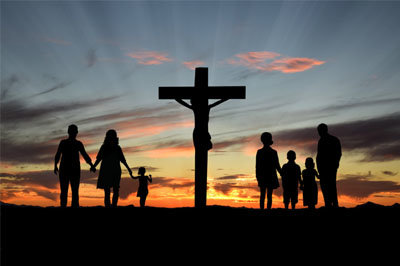 No matter how unpredictable and out-of-control your life feels, Jesus is reigning, and he will continue to reign until the final enemy is under his feet (1 Corinthians 15:25). That doesn't mean you won't experience pain and hurt in this world, but it does mean there's nothing that Jesus does not know about, cannot intervene in, or alter altogether.
6. The Empty Tomb guarantees delivery
No matter how hopeless and weak you think you are, you've been provided with all the grace you need to make it to the end. Future grace always carries with it the promise of present grace. God will provide everything you need until you see him face to face (2 Peter 1:3).
And that's why I love Easter Sunday so much!
HOW TO LIVE AFTER EASTER SUNDAY
As much as I'm captivated and riveted by these truths of the Empty Tomb, I need to be honest with you: it's a struggle for me to remember them once the celebration of Easter has died down.
So, to conclude, I want to turn your attention to the end of 1st Corinthians 15. This chapter is arguably the New Testament's longest and most detailed treatise on the Resurrection of the Lord Jesus Christ, and in the final verse, the Apostle Paul gives us marching orders for how to live after Easter Sunday.
He writes, "Therefore, my beloved brothers, be steadfast, immovable, always abounding in the work of the Lord, knowing that in the Lord your labor is not in vain." (1 Corinthians 15:58, ESV)
1. The Empty Tomb gives us unusual stability
Paul uses the words steadfast and immovable. Is your life a picture of that kind of stability? Is your everyday life anchored in the Gospel of the Lord Jesus Christ and his victory on Easter, or are you blown around by the winds of difficult circumstances, relationships and realities of life in a fallen world?
2. The Empty Tomb motivates us into lifelong activism
Because of the Resurrection, we should "always abound in the work of the Lord." To abound means to be enthusiastic and hopeful, motivated and courageous. If you actually believe that Christ rose from death and that he reigns in power, you ought to believe that the sexually addicted can be delivered; that rebellious children can become submissive; that broken marriages can be healed; that fearful people can know courage; and that the depressed can rise to live with joy again. Enough of survival; we believe in victory and transformation.
3. The Empty Tomb grounds us in realistic hope
If the Empty Tomb guarantees eternity, then we believe that our lifelong activism to "is not in vain." We live and minister in a fallen world – and that can be very discouraging – but in the darkest of nights, when progress seems invisible, we can have hope.
CELEBRATE EASTER EVERY DAY
I know I'm not alone in my struggles to remember Easter. But don't be discouraged – the very fact that we're struggling with these heart issues means that grace is present in our lives! In our weakness and confusion, we can admit our need for help and God will meet us in our broken honesty.
As a follower of Christ, the Resurrected Lord dwells within you today by his Spirit. You're a new person, not only in righteous standing before God, but in ability and desire. Jesus walked out of that Empty Tomb so you can walk in hope and freedom.